Our Mission
The mission of the Schultz Builders team is to be the benchmark of excellence for West Michigan's custom home sector by providing customers with premium quality homes that meet their individual needs. We provide our clients with the highest level of construction and customer service. We believe in using the best products, techniques, and building science available, with the most qualified craftsman, artisans, and tradesman. Our commitment to seeing our company thrive through repeat and referral business is rooted in our customer service minded approach to building: communication, timeliness, attention to detail.
Our Story
Schultz Builders was founded in 1993 by brothers, Rich and Jim Schultz. Rich started his career as a Realtor where he discovered the market for new build homes. After a local builder suggested Rich start his own building company, he and his brother began to build Schultz Builders. For twenty-four years, Rich and Jim built a high performing company.
In 2017, Rich and Jim realized Schultz needed a breath of fresh air: Sean Bush. Before joining the Schultz team, Sean owned and operated a large building supply company: Fox Brothers. This was not the first time the Schultz brothers had to adapt. After the 2008 economic crash, the demand for new build homes plummeted. In a display of their grit and determination, Renaissance Exteriors and Remodeling rose from the ashes of the recession.
Together, the three owners continue to own and operate Schultz Builders, Renaissance Exteriors and Remodeling, and Renaissance Roofing. With these three businesses, their teams are able to support all clients with every aspect of their home care. That is the Schultz difference: a team you can rely on for anything, anytime.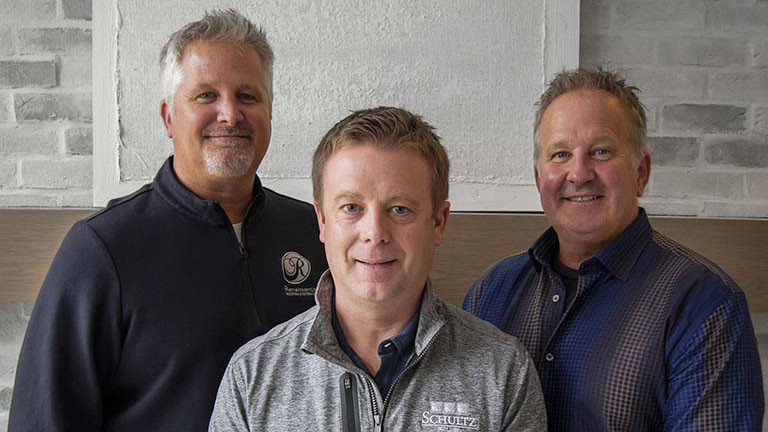 Left to right: Jim Schultz, Sean Bush, Rich Schultz
Schedule a Free Consultation